Blog
subscribe to the RSS feed file
Said The Whale - New Brighton
:: November 10, 2011
:: by Nick Coyne
Said The Whale has a distinct jangle-poppy and indie pop sound which was shown off in an concise and fun manner in the New Brighton EP. The Vancouver-based band does this through 4 quick songs with a profoundly upbeat and twangy guitar sound. These guitars are accompanied with an entrancing and swooning chorus to be found on each track.
The title track opens the album and it's a high energy poppy track that has a very sing-along chorus that is accompanied by a heavy drum and delicate piano playing over the chorus. The album's lyrical content is very good in the way it relates the pressures of loving of your hometown, but also wanting expand beyond it via individualism.
The 2nd track, "Sandy Bay Fishing Song", is very reminiscent of a Decemberists song. It has a nautical theme and is filled with harmonies that have a soulful and whining sound, all accompanied by a spastic and ringing guitar sound. It changes tempo a lot and is exciting throughout. Definitely the standout track from the small collection.
"Lines" is a decent and basic indie-pop song, it's a very good bridge from the up-tempo pace set in the first 2 songs to the folky and slow song that closes out the EP.
"Little Bird" is a beautiful folk song that tells the story of a newfound love. It starts off on acoustic guitar and slowly leads to a xylophone playing in the chorus.
It's a fantastic close to a well put together EP. It's definitely a symbol of things to come for the band and will definitely build a great deal of excitement towards their future projects.
Death Letters - Post-Historic
:: November 3, 2011
:: by Matt Tack
The young and hard rocking two man band, Death Letters, released their newest album, Post-Historic, and deserve two thumbs up for their performance and diversity of melodies.
Singer/guitarist Duende Ariza Lora, and drummer Victor Brandt really pulled it together to create something different for themselves, and their audience.
They strayed from their usual punk-rock influences and seem to have created an entirely new vibe. They incorporate a lot of mellowed out jam sessions throughout the album, and also some heavier alternative rock portions. If you're looking for one of those albums that flows smoothly from one track to the next, and keeps your mood changing like the Beatles' Abbey Road, this is it.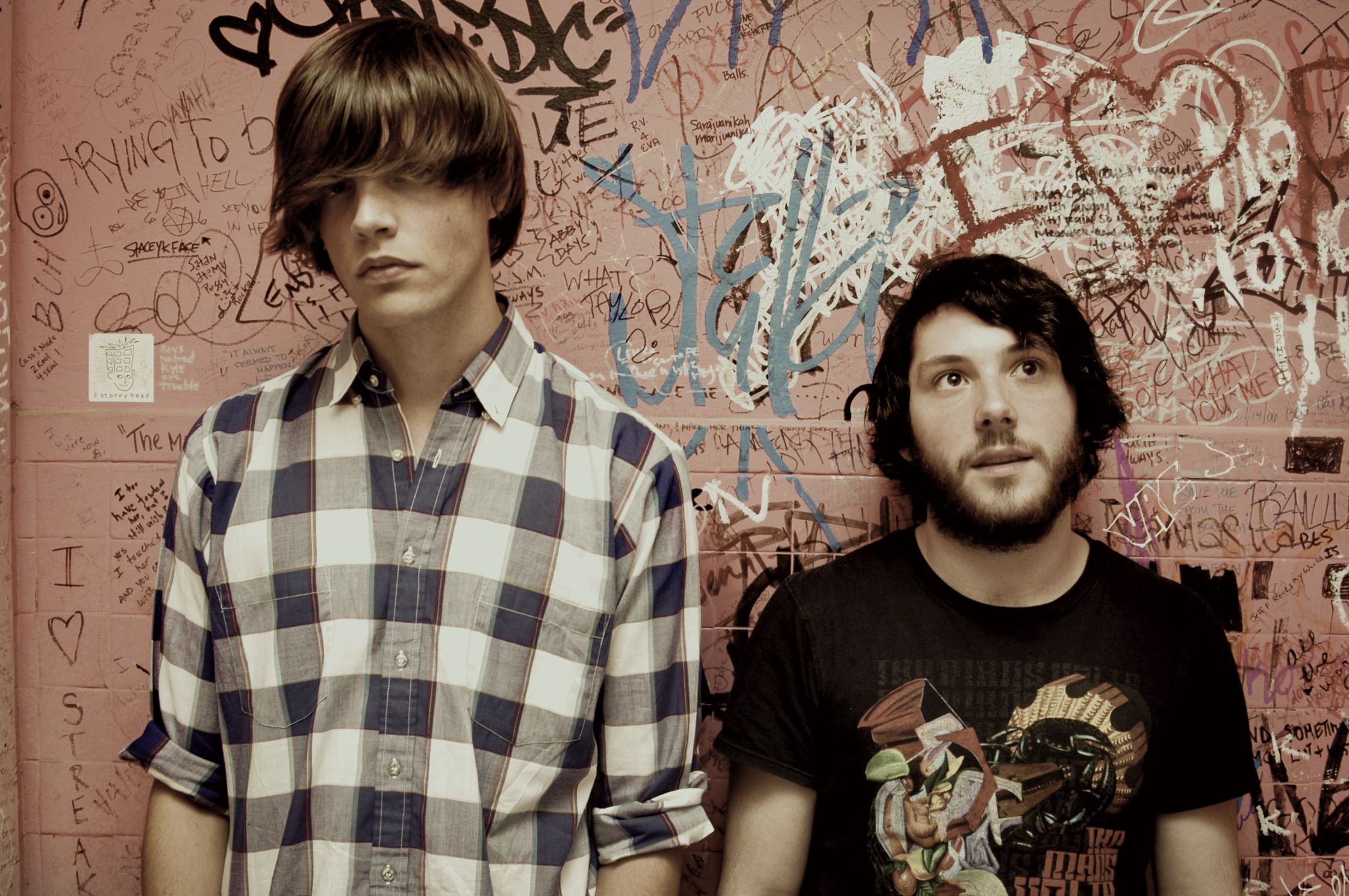 Track 8 on their album Post-Historic perfectly displays the diversity that Duende and Victor create in this album. I Wish I Could Steal a Sunset starts off with heavy garage-band like instrumentals and dominating vocals, then transitions to a slow jam session with soft but penetrating lyricism, and finishes off heavier than it began. Some softer piano parts are also incorporated into their music on this album, which adds an entirely new dimension to their overall sound.
---
Listen to "I Wish I Could Steal a Sunset" -
M83 - Hurry Up, We're Dreaming
:: November 1, 2011
:: by Karly Gombert
M83's new album is experimental ambience spread across two discs of complete mind- numbing transience. Anthony Gonzalez leaves no road untraveled in their newest release
Hurry Up, We're Dreaming.
The two-disc set really comes across as an adventure, with the first five tracks really projecting a strong, upbeat excitement. This focus fades into softer, drawn out pieces that really delve into all the experimentation shoegaze is capable of producing.
Tracks like "Another Wave from You" and "Intro" from Disc 1, really convey the feelings behind the music as the sound speaks sans vocals.
"Midnight City" is a really fun track, showcasing M83's abilities to the fullest by alternating well between strong instrumentals and vocal distortion.
Hurry Up, We're Dreaming is exactly what it sounds like, throwing the listener headfirst into the world of M83's very uninhibited dreams and fantasies.
Overall, the experience is enjoyable, but don't be afraid to fall down this rabbit hole for yourself. Take the plunge, you might like what you find.
---
Listen to "Midnight City" from Hurry Up, We're Dreaming -
Bombay Bicycle Club - A Different Kind of Fix
:: October 31, 2011
:: by Paige Winston
Fighting off resistance from disapproving listeners alike, Bombay Bicycle Club is back with a third album that seems to have finally captured the bands true essence. That, or they're great fakers.
"Your Eyes," is a steady builder that hooks you with a familiar sound. The singer begs and pleads for sanity through the simple request that he bears on the subject, or love interest, to merely humor him. What listeners may not grasp is the obvious Ben Allen production (member of Animal Collective).
The many loops of simple harmonies were overlapped on top of instrumentals late in the track making sure to subtly emphasize the power of the group. Go figure, you can't escape animal Collective.
The influence doesn't end there—obviously, it's only track three— the albums single "Shuffle," gets a little spacey while remaining with the status-quo for summer jams. The, for lack of a better term, fun, keys flash in and out of your ears during the opening moments of the song.
It progresses into a typical summer tune for a few moments; you know, head bopping, light music that tends to make you feel a little happy inside whether or not the message of the song is just that.
---
Listen to "Shuffle" here -
Ryan Adams - Ashes & Fire
:: October 12, 2011
:: by Samuel Wilson
Since 2000, there's hardly been a better bet in alt-country than Ryan Adams. But while this year's Ashes & Fire marks his 13th album, it also marks his return to recording since the disbanding of his backing band, The Cardinals. And boy, what a return it is, helped by heavy hitter Norah Jones' piano and backing vocals. Theres even some vocals from his former teen-pop star wife, Mandy Moore.
The opening track, appropriately titled "Dirty Rain" makes it clear this is the Adams we all know, not necessarily the sci-fi metal of Orion, recorded in 2007 and released two year later.
The title track equally shines through, playing an upbeat acoustic tune against Jones' melodic piano. You see his trademark personal tone on the first single, "Lucky Now," which features lyrics like "I don't remember, were we wild and young? All that's faded in the memory."
It's nice to have you back, Mr. Adams.
---
Listen to "Lucky Now" -
Caged Animals - Eat Their Own
:: October 5, 2011
:: by Paige Winston
There is something about a band, or musical group that
comes out of New Jersey that brings a different spin on
anygenre — it must be the water. Caged Animals didn't miss
thememo on their first, Eat Their Own.
A whining keyboard and melodious bass intertwine to expose "Teflon Heart," a song
prevalent with the goofy lyrics that can come out of lead singer, Vincent Cacchione's mouth. L
yrically, Cacchione could be compared to Of Montreal's "Our Riotous Defects." The song is the
epitome of Caged Animals trying to mesh chillwave with electro-pop in a hazy, yet upbeat
number.
"Hazy Girls," on the other hand, is a whimsical track heavy on a washed-out sound.
The words still portray simplistic ideas and images, but this time, they're more relatable. Upon
listening, your lids may get heavy on your head in which case I would suggest laying back, and
taking the music in.
---
Listen to "Teenagers in Heat" -
Sainthood Reps - Monoculture
:: October 3, 2011
:: by Nicholas Coyne
Following in the footsteps of successful bands out of Long Island's alternative/noise rock scene, like Brand New (which Sainthood Reps guitarist Derrick Sherman is a member of) and The Movielife; Sainthood Reps have managed to make a splash with their debut, Monoculture.
The title track opens the album and it immediately pulls you in with how aggressive it is. The distorted guitars screech throughout the song over a heavy drum part, all while lyrics are being delivered in a protesting manner. "We've come a long way/From the bottom up to minimum wage/Another day, another dollar", sings Francesco Montesanto. It's a great opener and it immediately grabs you with its sound. The lyrics provide a backdrop as to what's coming vocally on the album. "Animal Glue", the 5th track on the album, includes a very Jesse Lacey-type vocal performance, which isn't a bad thing by any stretch of the imagination. The guitars are very noticeably the work of Derrick Sherman, because of its distinguished echoing.
"Hunter" stands out so much because of its sense of anthem-type singing. It's sung with such passionate desperation. Lyrics like ,"There's nobody left to fight for our side and?/All my enemies are at my back door?/All my friends are at my back door" makes this such a beautifully written song, and something you find yourself emphasizing with.
This album will take you on an emotional journey. It's very engaging lyrically, the emotion and content of the lyrics sucks you in and forces you to really listen to the message being poured over the amazing musicianship by the rest of the band. This band sounds mature beyond its years and has set the bar high for future releases.
---
Listen to "Animal Glue" -
Dum Dum Girls - Only in Dreams
:: September 30, 2011
:: by Chelsea L. O'Connor-Rosiek
This second Dum Dum Girls album, Only in Dreams, is a homerun. It's exemplary of the girl rock genre. Lead singer/guitarist Dee Dee Penny created a more mature and authentic record, welcomed with open arms.
Previous Dum Dum Girls albums are more lo-fi with muddy vocals. Only in Dreams is a big step in the right direction. The production is superb. Unlike the past albums, Dee Dee's vocals are getting the justice they deserve.
"Hold Your Hand" is different than the former three songs, and it's still amazing. It's a ballad that could break a heart made of crystal. The song sounds like a prom scene is an 80's movie."Wasted Away" is comparable, but stands out. It's just Dee Dee being very… Dee Dee.
Overall, this album is great. It flows well. It shows a maturity that I Will Be didn't quite have. It's definitely worthy of rotation.
---
Listen to "Bedroom Eyes" -
Jono McCleery - There Is
:: September 28, 2011
:: by Meaghan O'Rourke
Everyone will tell you that it's nearly impossible to pigeonhole Jono McCleery, singer/songwriter, into a single genre. On his second album, There Is, the London-based musician demonstrates his ability to brilliantly combine all aspects of vast influences.
The leading track, "Fears," is a combination of soulful R&B and darker folk- perfection. It clearly sets the tone for the unconventional nature of the rest of the album. In the soulful "Stand Proud" (track 6), McCleery collaborates with Fink to create a hymn-like track filled with gospel blues and experimental pop.
"Only" (track 8), his collaboration with Vashti Bunyan, offers similar effect with different instrumentations. In "It's All" (track 5), utilizes dramatic instrumentation to convey deep emotion. His strong vocal abilities are also highlighted in this standout song.
Give it a listen. There Is is a collection of 12 beautifully orchestrated different songs. Each one stands alone. McCleery will captivate you. It might not be your favorite, but you won't be disappointed.
---
Listen to "Fear" -
Neon Indian - Era Extrana
:: September 26, 2011
:: by Paige Winston
Neon Indian, aka Alan Palomo, has made quite the name for himself since the debut in 2009, Psychic Chasms. Since then, the genre of chillwave has taken an even more lethargic route. Remaining in the lead, Neon Indian's latest release, Era Extrana, is a smooth flowing and celestial album may pull you into the clouds with it.
With a beginning that sounds like a spaceship climbing to ludicrous speed, "Hex Girlfriend," has the bitter longing of a displeased narrator. The song's atmosphere wraps around the lyrics "weekend rituals resurrecting feelings our sober minds reject." It's coupled with lazy crooning.
"Arcade Blues," as someone may imagine, sounds like a compilation of Nintendo fighting games announcing "fight." It seems to flow from nostalgic video game sequences to something with much more depth when he speaks of "finding something else to do." The song, much like the rest of the album, is not to be taken literally, but rather appreciated for clever word play and lyricism.
Neon Indian has flawlessly created an album exploring the depths of loneliness while remaining to be a light listen.
---
Listen to "Arcade Blues" -
1 | 2 | 3 | 4 | 5 | 6 | 7 | 8 | 9 | 10 | 11 | 12 | 13 | 14 | 15 | 16 | 17 | 18 | 19 | 20 | 21 | 22 | 23 | 24 | 25 | 26 | 27 | 28 | 29 | 30 | 31 | 32 | view all