Blog
subscribe to the RSS feed file
WSBU Presents: Across the Universe
:: March 19, 2013
:: by WSBU
WSBU will be hosting its first movie screening of 2013!
What: Across the Universe

When: Tomorrow (Wednesday March 20) @ 7 p.m.
Where: Murphy Auditorium
Can't wait to see you there!
WSBU General Interest Meeting
:: January 21, 2013
:: by WSBUfm
Hey guys! It's that time of year again.
Head over to Murphy Auditorium on
Thursday, January 24@ 7:30 p.m.

and sign up for our marvelous departments, apply for a radio show and more!
Check out our event page on facebook here:
https://www.facebook.com/events/380959895333228/
See you there!
Robbinson Crosby: The Buzz recognizes Aids Awareness Week
:: November 29, 2012
:: by Morgan Statt
Rock Band, a popular video game that hit consumer circuits in 2007, has led to the rediscovery of a wide range of bands. From the multitude of bands that range from 1970s rock groups to current artists, the 1980s hair band Ratt succeeds in making the game's playlist. In honor of Aids Awareness week, we remember Ratt guitarist Robbin Crosby and his contribution to the music industry through the years.
Robbinson Lantz Crosby was born on August 4, 1959 in La Jolla, California. In 1982, he joined the rock group Ratt as a co-lead guitarist. Earning the nickname "King" because of his choice of guitar while in the band, Crosby not only performed with the group but also showcased his talents in songwriting. He successfully contributed to Ratt's hit songs, including "Round and Round" and "Lay it Down". Robbin's talents as both a songwriter and guitarist enabled Ratt to find success in the mid-1980s. The band released four consecutive platinum albums over the years.
Crosby's musical talents were overshadowed by his excessive drug use while in the band. His addiction to heroin eventually led to his contraction HIV and AIDS. After leaving Ratt in 1991, Crosby learned of his disease in 1994. However, he chose to remain quiet until 2001, when he released a public statement about his condition.
On June 6, 2002, Robbin Crosby passed away at the age of 42 in Los Angeles, California. Autopsy reports revealed that his cause of death was due to both complications with AIDS and a heroin overdose. His memorial service was held in his hometown of La Jolla, California, where his ashes were spread at sea. Even though he spent almost a decade battling AIDS, Robbin experienced tremendous success with Ratt, and we still continue to appreciate the band's music today.
Nadja Benaissa: The Buzz recognizes Aids Awareness Week
:: November 29, 2012
:: by Emily Steves
Nadja Benaissa, born April 26, 1982, found fame as a member of No Angels, the German version of The Spice Girls. The band formed in 2001, producing popular hits like "Daylight In Your Eyes" and "Still In Love With You."
After No Angels broke up in 2003, Benaissa began her solo career, focusing on songs with German lyrics instead of English. She released her debut, Schritt für Schritt, in 2006. In her album, Benaissa ventured away from the Pop genre, delving into R&B and Soul instead.
No Angels picked up again in 2008. The next couple of years changed Benaissa's life and her reputation.
After years of drug abuse and alcoholism, doctors diagnosed Benaissa with HIV in 1999 during a pregnancy test. She gave birth to her HIV-free daughter, Leila.
In August of 2010, Benaissa sat in a courtroom, facing charges for failure to disclose her HIV status to several sexual partners before intercourse. She transmitted the virus to one of her partners after they had unprotected sex.
German law states one who fails to disclose he/she has HIV to a partner before sex can serve six months to 10 years in prison. If the victim dies during imprisonment, the sentence can extend from 10 years to life in prison.
Judges found Benaissa guilty of grievous bodily harm and attempted bodily harm. She received a suspended sentence.
Benaissa left No Angels for good after the trial and released a biography, Alles wird gut, written by Tinka Dippel.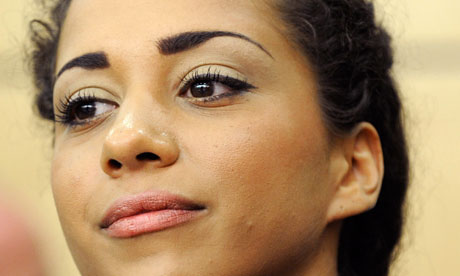 Jermaine Stewart: The Buzz recognizes Aids Awareness Week
:: November 28, 2012
:: by Kirk Windus
Jermaine Stewart was an R&B singer and dancer throughout the '80s and '90s. He performed on the iconic show, "Soul Train," during his teen years before going on to be a back-up singer for stars like The Temptations and Boy George. He went on to sign a solo deal in the mid '80s. During this time period, he had three top five R&B hits.
Ironically, his most popular song didn't top the R&B charts. "We Don't Have To Take Our Clothes Off" rose as high as number five on the pop charts, but was not well received by the R&B community. Gym Class Heroes of course sampled the song later in their chart topper, "Clothes Off." The song featured Fall Out Boy's Patrick Stump singing the infamous refrain.
Sadly, Stewart fell prey to the AIDS virus. He passed away in 1997, losing a fight with Liver Cancer related to his AIDS condition. He was only 37 at the time.
Freddie Mercury: The Buzz recognizes Aids Awareness Week
:: November 28, 2012
:: by Nicholas Coyne
As the lead singer and lyricist of one the most influential pop bands of all-time, Queen, Freddie Mercury was radiant in pop music's spotlight. However, Mercury tragically died of bronchial pneumonia, a result of contraction of the AIDS virus in 1987.
One of the greatest entertainers in rock history, Mercury managed to separate his personal and professional life, so much so, that he died one day (11/24/91) after first publically admitting to having the HIV-AIDS virus. Mercury is responsible for some of the most widely known hits in music history, such as "Bohemian Rhapsody," "Bicycle Race," "Killer Queen" and "We Are The Champions." His magnetizing aura affected the music scene greatly; his utilization of harmonies and vocal cadences influenced many bands performing today.
Due to how highly regarded Mercury was, his death from the AIDS virus raised awareness infinitely, similar to how Magic Johnson's contraction of the virus raised awareness in the sports world. His stage presence was only eclipsed by his societal presence; Mercury's word was scripture for music enthusiasts, to this very day. T
he Mercury Phoenix Trust, to aid research of the disease, was set up in remembrance of Mercury, and has raised millions of pounds towards research. Freddie Mercury was a shining example of charisma and pride, his impact on music and culture will never cease.
Eazy-E: The Buzz recognizes Aids Awareness Week
:: November 27, 2012
:: by Cristabell Ramdial
Eazy- E, who was better known as, the god-father of "gangster rap," was born on September 7 1963. He was a solo rapper, and was a part of the famous rap group, NWA. He grew up in Compton, California and began rapping in his parent's garage in the 80's. Eazy-E's debut album, Eazy-Duz-It, was released on September 16, 1988, and featured twelve tracks. It has sold over 2.5 million copies in the United States and reached #41 on the Billboard 200. After NWA broke up in 1991, Eazy- E began feuding with Dr. Dre, who was a fellow member of the NWA group, and lasted for a few years with each side creating tracks aimed at the other.
On February 24, 1995, Easy- E was diagnosed with AIDS, and he announced his illness in a public statement on March 16. When Eazy- E was diagnosed with AIDS, many magazines covered the story and released information on the topic. Since he was well-liked and respected by both fans and the music industry, his revelation about his diagnosis with AIDS came as a shock to everyone. He died due to "complications from AIDS" one month after his diagnosis, on March 26, 1995. However, before his death, he made amends with Dr. Dre.
Since Eazy-E's death, many books and video biographies have been produced about the rapper. A new documentary created by Sergio Hernandez, entitled, Ruthless Memories, is about the rapper's life, and will contain exclusive interviews from people who knew the rapper best. The documentary will be released on December 21, and according to Electronic Urban Report, those who pre-order their copy before December 7 will see their names appear in the film's ending credits.
Sky Ferreira
:: November 14, 2012
:: by Paige Winston
When I first heard Sky Ferreira, she was singing about going to clubs underage, and obsessing over one vice or another. With a more mature take on music these days, Sky has progressed into something more relatable and pertinent.
On the first track "Sad Dream," she is on the foreground of an acoustic guitar that guides the tune to a sweet sounding enchanting chorus.
"Lost In My Bedroom," has more of an early 90's feel. It's something between Madonna and Nena' s "99 Red Balloons." I won't lie, it makes me want to dance.
Sky Ferreira has progressed more so then I'm used to as a listener—especially in the genre of pop. She's approached this EP with a more retro take on pop, making it entirely her own. There's something about pushing past the materialism and glamour while still remaining a pop artist that has made me take to Ferreira.
---
Check out: "Sad Dream" from her new Ghost EP
http://www.youtube.com/watch?v=GIDpQXKLfB0
Frightened Rabbit
:: November 13, 2012
:: by Paige Winston
What I've found in my past times listening to Frightened Rabbit is nothing less than an emotion-filled jumble of clever lyricism and catchy riffs. State Hospital proves to be everything you're used to as a seasoned fan while still finding something beautiful in every word professed.
The record begins with the title track that pulls you directly into an active portrayal of a broken home. The story seems to revolve around a single girl who's "blood is thicker than concrete
forced to be brave she was, born into a grave." The inherent sadness has an equally noticeable allure to it when listening.
When you walk away from listening to State Hospital, it resonates with you on the same level as The Antlers album, Hospicedoes. It's a tragic and beautiful album that holds its time of relevance.
---
Check out: "State Hospital" from their new album State Hospital
http://www.youtube.com/watch?v=BJb4uNi1VwU
Local Concerts
:: October 2, 2012
:: by Karly Gombert
Concerts 10/1-10/8
Waterstreet Music Hall:
Oct. 3 - Sleigh Bells & Araabmuzik @ 8 p.m.
---
The Bug Jar:
Oct. 6 - Joywave w. KOPPs, The Wallpaper, The Branch Davidians @ 8 p.m.
Oct. 8 - King Orchid w. Cavalcade, TBA @ 7:30 p.m.
---
Town Ballroom:
Oct. 1 - Datsik w. Delta Heavy, Bare Noize, AFK @ 8 p.m.
Oct. 2 - Needtobreathe w. Drew Holcolmb, Parachute @ 6:30 p.m.
Oct. 4 - Mutemath w. Civil Twilight @ 7 p.m.
Oct. 6 - Matt & Kim w. Oberhofer @ 7 p.m.
---
The Grog Shop:
Oct. 2 - David Liebe Band (Tim and Eric's Awesome Show / Adult Swim)
Oct. 4 - The Sheepdogs / The Buffalo Killers
Oct. 8 - Tilly & The Wall / Nicky Da B
---
Oct. 4 – Taking Back Sunday w/ Bayside – The Scene Stage – 8:00pm
1 | 2 | 3 | 4 | 5 | 6 | 7 | 8 | 9 | 10 | 11 | 12 | 13 | 14 | 15 | 16 | 17 | 18 | 19 | 20 | 21 | 22 | 23 | 24 | 25 | 26 | 27 | 28 | 29 | 30 | view all