Blog
subscribe to the RSS feed file
You NEED to listen to: Nitzer Ebb!
:: November 23, 2010
:: by Karly Gombert (Music Dept. Staff)
Deep, throbbing bass beats, a chanting underlay and sporadic screaming open to door industrial alternative in Nitzer Ebb's new album Industrial Complex. This techno troupe formed in 1982, with most of their early music stemming from experimentation with synthesizers and drum pads.
Industrial Complex sticks to its name, as the CD jumps from the rave craze of "Once You Say" and "Promises" to the more upbeat, pop feel of "On the Road" and "Kiss Kiss Bang Bang." It seems as though the band can't settle on one definite feel, but the entire album works well as an outreach into the many aspects of industrial techno.
Overall, the album throws a lot at you. Its multi-purpose nature gives it almost universal applicability in terms of soundtrack for social events. Where "I'm Undone" offers doleful sounds for a Saturday night spent alone, "Once You Say" is perfect for a downtown rave under black-lights. Nitzer Ebb doesn't fall short, but Industrial Complex seems like a stepping stone to a more developed sound.
---
Listen to "Promises":
You NEED to listen to: Oh Land
:: November 22, 2010
:: by Levi Trimble
"My goal is to sound like I'm from 2050, but still feel really classic, like the music is an old friend," said new Danish electro-pop sensation Oh Land. Her goal certainly has been met.
Oh Land, formerly a ballet dancer for the Danish Royal Ballet, suffered an injury causing her to retire. Due to this unfortunate event, Oh Land discovered a passion for creating vocal music. This has been an extreme success for her in Denmark. Now she moves to the U.S., hoping for the same success. Her American debut, a self-titled EP, shows great potential to take a pop-loving market by storm.
The EP starts off with catchy, downbeat heavy, "Sun of a Gun." The song really gets you excited with every heavy electric drum beat and her sultry voice. The song has 2 other remixes on the album one done by Yuksek and another done by Savage Skulls.
The second track, "White Nights" has hit single written all over it. Her feist-esque sound combined with interval jumping synths and extremely catchy lyrics leave you wanting more. The EP continues with tracks "Rainbow" and "Wolf & I." These tracks round out the EP and clearly define her sound.
Once Oh Land hits the ears of listeners across America, she will be on the fast track to success. This futuristic pop sound could take America by storm.
---
Listen to "Son of a Gun":
You NEED to listen to: The 22-20s
:: November 19, 2010
:: by Anthony Gannon (Music Dept. Staff)
The 22-20s spent the time from their reformation in 2008, after a three-year break up, honing their craft of English rock. Their sophmore release Shake/Shiver/Moan is full of songs reminiscent of the Beatles, Oasis and other great rock acts out of Britain. It is obvious this band draws heavily from their influences when writing music.
The songs on Shake/Shiver/Moan range from psychedelic, to driving rock, to reflective. Songs on the album have a remarkable way of getting stuck into your head, whether you realize it or not. Often times after listening to this music, you find yourself trying to remember where you heard these songs before, only to realize they're all in your hands.
With a very focused vision, 22-20s knows what they want to play and how to play it, it's music you'll wish you had been hearing your whole life.
---
Check out a live studio version of "Latest Heartbreak":
You NEED to listen to: The White Buffalo!
:: November 18, 2010
:: by Pat Hosken
The White Buffalo commands the full attention of whatever room he's occupying at that very moment. On stage, the over-six-feet-tall grizzly man grips his guitar with force, belting out his wooded lyrics like the poet laureate of the forest. He spouts folktales of lost love like a frontier gunman on the run from his charred past. But The White Buffalo's most charming quality is his humanity—each song is a personal reflection, especially the spiteful ode to whiskey on "John Jameson" and the self-explanatory "Love Song #2."
With his long brown mane, fuzzy beard and shirts that can only have been bought from big-and-tall stores, The White Buffalo is a man's man: a drinking, fighting, soulful man who ain't afraid to tell you everything, no matter what you might say about it. "I'm sloshed and seein' stars," opens his whiskey croon, but you listen deeper and more personally to hear him finish the story. And that's the whole heart of The White Buffalo—his stories.
Without 'em, would this large American bard have been able to put out records and tour relentlessly to support them over the past five years? Nope, didn't think so. Walt Whitman wrote about a unified America, one that spans oceans and mountains with a strong sense of brotherhood. While The White Buffalo might seem like a cold drunkard who'd rather fight his fellow man than embrace him, his story is all of ours, and it's all-American.
---
Listen to "Love Song #2":
You NEED to listen to: The Greenhornes!
:: November 17, 2010
:: by Paige Winston (Music Dept. Staff)
After an eight-year hiatus, The Greenhornes, the trio from Cincinnati, Ohio is at it again. '****', their latest album, gets right back into the garage rock the band is known for. On the other hand, this album happens to be pure poetry.
If "Underestimator" doesn't hook you from the very first guitar strum, the catchy lyrics surely will. Lead singer Craig Fox pleads with his love with a familiar notion, "I'll spend my day, waiting for you." You find yourself not only drawn in by the song, but empathizing with the rocker. The band is rounded out by bassist Jack Lawrence (of The Dead Weather) and drummer Patrick Keeler, who both also play with Jack White in the Raconteurs.
All-in-all Greenhornes has matured in the eight years they have taken off. '****' definitely lives up to its name.
---
Listen to the upbeat "Underestimator":
You NEED to listen to: Jessica Hernandez and the Deltas!
:: November 16, 2010
:: by Karly Gombert
Jessica Hernandez brings the heat both vocally and instrumentally in her new album, Weird Looking Women in Too Many Clothes. Her unique vocal construction draws the listener in, entertaining them with thoughts of macabre circus sideshows, and Mardi Gras.
The infusions of brass, keyboard and avant-garde percussion give the pieces a jaunty tone, which contrasts highly with the dark nature of the lyrics. Each song shows a different side of Hernandez's vocal range while continually complementing the spirit of the album as a whole.
Hernandez's unique gothic-soul vocals create a chilling semblance with their drawn out vibrato and ghostly underlays. Her deep tambour on "Moonstruck" sounds like a dirge, bringing the listener back to the voodoo and black magic of New Orleans.
Overall, the album sets the bar extremely high for this up-and-coming group. The thought and effort put into each aspect is not only apparent, but necessary for the album to provide so much auditory pleasure. From the bubbly melody of "In The City" to the slower, more melancholy mastery of "All So Mute," Hernandez does not disappoint.
---
Listen to "In the City":
You NEED to listen to: The Fresh & Onlys!
:: November 15, 2010
:: by Jess Rehac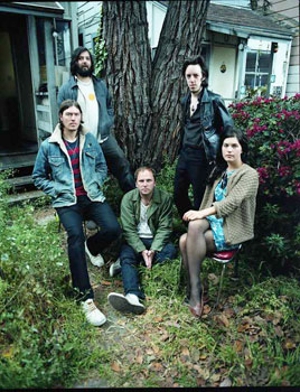 San Francisco-based band The Fresh & Onlys have been bringing their garage-pop sound to the music scene for three years, making a name for themselves by combining the hard-hitting chug of garage rock with the playful twang of folk rock.
Play It Strange is The Fresh & Onlys third album in as many years, and it showcases a cleaner, more easily accessible sound than we've seen so far. Singer Tim Cohen doesn't provide much color in his flat, baritone vocals, but taking the backseat to the melodies and rhythms from the guitars and drums works in The Fresh & Onlys favor to create heavily instrumental and interesting songs. At times throughout the album, it sounds as though they've played around with different musical genres, putting their folk-rock, garage-pop spin on sounds you'd usually attribute to old western movies or songs you'd hear from The Beach Boys. Every song brings something new to the listener, keeping them interested and making us all wonder what they'll come up with next.
---
Check out the video for "Waterfall":
You NEED to listen to: Gold Panda!
:: November 12, 2010
:: by Peter Cauvel
Electronic music isn't all soulless beeps or mindless techno. Gold Panda, aka U.K. producer Derwin Panda, creates music rich with emotion and imagery on his debut album.
Lucky Shiner is a journey. Panda draws on his time studying culture, history and language in Japan to take the listener to the Far East. What's truly fascinating about the songs, though, is that the nostalgia isn't lost on the listener. Songs like "Same Dream China" draw on the traveler in all of us to create emotional connections. The stories become personal for each listener. The instrumental nature of his music allows Panda to produce intense images. Visions of a wintery night ("Snow & Taxis") or the bustle of Mumbai ("India Lately") instantly flood the listener.
The vivid imagery of Lucky Shiner makes for an incredible listen. Panda's stories have no words, but the listener knows exactly what he's saying.
---
Listen to Gold Panda's "Same Dream China":
You NEED to listen to: Coastwest Unrest!
:: November 11, 2010
:: by Anthony Gannon (Music Dept. Staff)
The trio Coastwest Unrest formed in 2009 in Las Vegas. In that time they've released two albums, their debut effort Songs From the Desert and their sophomore follow-up Old Weird America.
Old Weird America is essential Coastwest Unrest; it is full of instantly catchy folk-rock tunes that utilize all three members of the band, Alex Barnes and brothers Josh and Noah Dickie.
Tracks like "Down in the Mouth" showcase the bands signature sound as acoustic guitars play catchy rhythms, harmonica and drums add to the overall ambience, and the violin played by Barnes always seems to do a lot without ever doing too much.
Old Weird America came about from CU's travels across the country and their inspirations during specific moments of touring. You can feel the haunting reach of "Weird America" in every song on the album. Old Weird America is the wonderfully elusive second effort that surpasses the original.
---
Listen to "Down in the Mouth" for a taste of Coastwest Unrest:
You NEED to listen to: The Black and White Years!
:: November 10, 2010
:: by Jess Rehac
The Black and White Years have been around since early 2006, after band members Scott Butler, Landon Thompson, and John Aldridge met at Belmont University in Nashville, Tennessee. They began to play music together on the local scene and recorded their first EP just before adding drummer Billy Plotts into the mix in 2008.
Two years after producing their debut album, the Black and White Years are back with their sophomore album, Patterns. Butler and Thompson are at the forefront of the album, bringing with them not only their relaxed vocals, but also the power-pop background sounds that are present throughout the entire album. If The Black and White Years are one thing from the opening song "Up!" to the closing "Promises", it's consistent; each and every song unites the band's desire to produce songs with complex lyrics with upbeat, electronic background music, encouraging listeners to not only take them seriously as musicians, but to enjoy it as well.
---
Listen to the opening track, "Up!":
1 | 2 | 3 | 4 | 5 | 6 | 7 | 8 | 9 | 10 | 11 | 12 | 13 | 14 | 15 | 16 | 17 | 18 | 19 | 20 | 21 | 22 | 23 | 24 | 25 | 26 | 27 | 28 | 29 | 30 | view all