Blog
subscribe to the RSS feed file
Black Joe Lewis & the Honeybears - Scandalous
:: March 22, 2011
:: by Kyle Zappia
On their sophomore album, Black Joe Lewis takes The Honeybears on a wild ride.
The Texas natives still supply the retro, throwback blues music, but take a different route for the new album. The powerfully prevalent brass and woodwind instruments heard on their debut, Tell Em What Your Name Is!, take on a new role this time around. Showing off their versatile song writing, the band shares the stage by meshing their instruments instead of the stark horns standing out so much.
The band still showcases Lewis' deep, James Brown-like voice, and funky guitar and bass riffs, but now everything seems to jell better together.
Certainly, Scandalous is nothing but what you could hope for from the gang, a good mix of old with a good mix of new.
---
Listen to the album's first single, "Booty City":
The Mountain Goats - All Eternals Deck
:: March 21, 2011
:: by Jess Rehac
Hailing from the sunny state of California, The Mountain Goats have been producing indie-folk music for nearly two decades, accumulating a well-deserved and sometimes almost cult-like following. In the beginning The Mountain Goats' focus was to write and record music almost instantly; if a song wasn't written and recorded within the span of a few days, it was often set aside and left there for a new idea.
Over the past ten years, The Mountain Goats have been taking the time to produce records with a much more polished sound to them than what they were used to. Their newest album, All Eternals Deck is no exception. Setting witty lyrics to the classic sounds of American roots music, The Mountain Goats continue to put a smile on the faces of their fans. No song on the album stands out as an absolute single; this is an album that is meant to be listened to and shared as a whole, and I've yet to meet someone who could stop listening halfway through.
---
Listen to "Damn These Vampires":
Dum Dum Girls - He Gets Me High EP
:: March 18, 2011
:: by Pat Hosken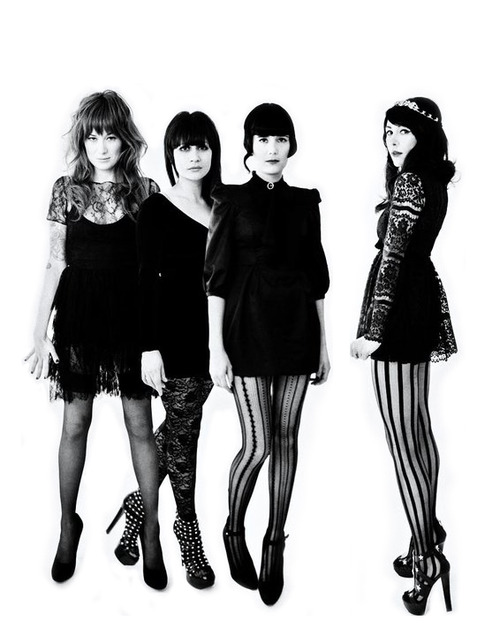 "Vintage" rock 'n roll is valued highly in today's music scene. In a realm where electronic beats, computer programming and even auto-tuned vocals are present in music still labeled as "rock," Dum Dum Girls slide in on a wave of refreshing nostalgia.
He Gets Me High is the third release from this fuzzy quartet after last year's debut-LP, I Will Be and an earlier EP in 2008. SPIN's Kenneth Partridge stated that Dum Dum Girls are the answer to the question: "What if the Bangles and the Cure had mated in 1982?" That's a boiled-down definition, but these sunny rockers also channel The Stones, The Smiths and a lot of peppy '50s surf rock into their infectious jams.
The title track is a tight tune in the vein of last year's single "Bhang Bhang I'm a Burnout." Crunchy bass leads the song into pounding drums and full-bodied major chords and, of course, leader Dee Dee's beautiful melodies that jump in the air like long, black hair bobbing down the stairs. If the melodies don't get you, the simultaneous bright-and-dark musicality will.
Rounding out the 14-minute EP is a roaring cover of The Smiths' "There Is a Light That Never Goes Out" that updates and Americanizes the morose and quaint original tune. It's the same song, only this time it sports black fishnets and bright ruby lipstick. Dee Dee keeps Smiths' singer Morrissey's cadence catchy and tight, never letting the song become anything but her own.
Dum Dum Girls are vintage indeed—a throwback to a time when music was made with guitars, drums and catchy melodies. The disc itself comes in its own Sub Pop sleeve, like a vinyl album would, that means even the CD casing is vinyl. Dee Dee and the gang keep it real, and keep it real-cool on an EP that shows a bright future for her girls.
---
Listen to their cover of the Smiths' "There Is a Light That Never Goes Out":
Does It Offend You, Yeah? - Don't Say We Didn't Warn You
:: March 17, 2011
:: by Paige Winston (Music Dept. Staff)
Does It Offend You, Yeah has made their fans wait three years for their follow up album to their last release, You Have No Idea What You're Getting Yourself Into. Don't Say We Didn't Warn You is the follow up to the former release and for fans of the band it's been worth the wait.
Don't Say We Didn't Warn You is full of electronic melody, punk attitude, and driving bass beats with just a touch of indie class.
"Pull Out My Insides" breaks from that normal sound of the album, and the band itself, by toning down the dance aspect. They instead focus more on the vocals of lead singer James Rushent. It still has the prominent bass, but lets you catch your breath after the two electro-heavy songs that lead the album.
Don't Say We Didn't Warn You has satisfied the hungers of Does It Offend You, Yeah's fans. It's enough to hold them over until their next release, even if it takes some time to get there.
---
Listen to "Pull Out My Insides":
Boat - Dress Like Your Idols
:: March 16, 2011
:: by Anthony Gannon (Music Dept. Staff)
Listen, coming out of your speakers, it's poppy, it's rocky. No it's both. All from Boat's fourth studio album Dress Like Your Idols. This thing is full of tongue in cheek lyrics, catchy pop choruses, soft, reverbing guitar, and harmonious singing.
Dress Like Your Idols can be listened to anytime, but no matter when you listen to it you'll end up in the same mood by the end of the title track. You will be relaxed, and forced to do nothing more, but start the whole thing over from the beginning.
David "D" Crane provides guitar and the storytelling vocals for the band. Jackson Long adds drums behind the kit, as well as producing and mixing for the band. Mark McKenzie takes time off from dancing jigs onstage by playing bass and guitar for the band. John Goodman rounds out the quartet, providing keyboards, guitars, tambourine, cowbell, and everything short of the moon for Boat.
One of the standout tracks is "King Kong." There's a sinister keyboard note being held against a nice back and forth guitar sound while Crane sings along to himself. This is just in the first 30 seconds. Once the chorus comes in with its driving guitar, bass, and drums, the singing has built to a crescendo of hooky substance before resolving into an intense minimalist guitar solo. It's a very well-done track that shows all the strengths of the band perfectly.
---
Listen to "King Kong":
BOAT "(I'll beat my chest like) King Kong" from Magic Marker on Vimeo.
Wye Oak - Civilian
:: March 15, 2011
:: by Meaghan O'Rourke
The Baltimore-based indie rock duo Wye Oak, Jenn Wasner and Andy Stack, released their third album last week. The ten-track album, Civilian, was among the most anticipated in 2011 and lived up to those expectations.
Like Beach House (another Baltimore based male-female duo), Wye Oak engages heavily in trance-like effects that sound larger than just the two-person lineup. Wye Oak stands apart, however, with its attention-grabbing volume. So it's more than appropriate when the leading track, "Two Small Deaths," opens with ambient chatter that is abruptly cut off by steel guitar and electronic effects.
Wasner's guitar wailing and range grab attention in other tracks, too. Listen to the elegantly played out chords of "Doubt," her Sonic Youth-esque snarl in "Holy Holy" and well-played figures in "The Alter" to hear her magnificent power.
Other standouts include the title track, "Hot as Day" and "Dog Eyes."
Wye Oak took a big step forward, created a more complex sound and produced its best album yet. Stick around because the band is only going to continue to grow.
Listen and be captivated from beginning to end.
---
Listen to the title track, "Civilian":
Revolver - Parallel Lives
:: March 14, 2011
:: by Sam Wilson (Music Dept. Staff)
Revolver gives a sampling of the kind of acoustic folk that earned it a French Grammy nomination with its new EP, Parallel Lives. Despite all three of the band's members being born in France, Revolver shows clear roots in British and American classic rock-folk groups and clear possession of the English language. One wouldn't be far off calling them the French Fleet Foxes.
"Losing You" stands out for its fantastic harmonies and storytelling that take you to another place for two minutes and 41 seconds. The EP's opener and title track trails only "Losing You" in greatness, featuring only vocalist Ambriose Willaume apart from the harmonious refrain to emphasize the song's great lyrics.
With just four songs, Parallel Lives, leaves the listener longing for more. The short closing track, "Balulalow" (1:16) feels like a tease of something greater about to come from Revolver.
---
Listen to "Losing You":
PJ Harvey - Let England Shake
:: March 11, 2011
:: by Pat Hosken
"Experimental" is a ten-cent word that lazy journalists toss around in reviews to fill space. It takes a true artist to merit a fine complimentary adjective like that, but PJ Harvey truly warrants it on Let England Shake, her eighth studio album.
Too few albums seem unified through and through, but Harvey really tries to perform the title act through 12 songs, each tackling another component of the motherland's complex past and modern history. "Let England Shake" begins things in a spooky whirl of musicality, with Harvey singing "England's dancing days are done" over a subtle collection of percussion, brass and even a xylophone.
The music conforms to standard singer-songwriter fare, but it's the expansion of what's already there that makes Harvey an experimentalist.
"The Glorious Land" builds around thick percussion layers that sound like someone shaking a large sack of pennies. A sad trumpet pipes over the rising sound, peppy when it shouldn't be, like a dog jumping around in the car driving him to be put down. "England" plays like a requiem to the titular nation, with Harvey's near-yodel filling the empty spaces between acoustic guitar strums.
"Bitter Branches" tells of pointy war, with the title objects being the arms of soldiers spreading into the world. This rich metaphor makes for a gripping two-and-a-half-minute tune that passes quickly like oncoming fire. Album closer "The Colour of the Earth" features PJ and her frequent collaborator Mark Harvey crooning about a fallen friend over chiming U2-like guitars and a thunderous kick drum pounding intermittently, like a soldier's stomp.
Despite the grim images of twisted trees, war-painted scenes and dark places, Harvey ends the album triumphantly, as if the Union Jack were cinematically waving above. Using autoharp, mellotron, trombone, trumpet, xylophone, saxophone, organ, piano and violin on top of her traditional lineup of drums and guitar, Harvey's experiment becomes sentiment on an album all her own.
---
Listen to "The Last Living Rose":
Bardo Pond - S/T
:: March 10, 2011
:: by Anthony Gannon (Music Dept. Staff)
Bardo Pond's eponymous eighth album is composed of seven acid rock songs that make the listener question if what they're hearing is real or just an induced haze of noise their brain decided to feedback. Despite only being made up of seven songs the album lasts just over an hour, averaging just less than ten minutes a song.
Midway through the album, the listener is greeted with a 21-minute slow ride in the name of "Undone." The first half is filled with noises and indiscernible singing courtesy of vocalist Isobel Sollenberger. The second half picks up the pace slightly, but doesn't elaborate on anything established in the first half. This technique actually works out quite well because throughout the whole jam, there is a constantly, slowly building tension in the music. The twin guitars of the Gibbons brothers, John and Mike, are fuzzed to death and drenched in wah. They add to the tension and are constantly floating in and out of the pyramid of sound that works its way through the album.
Completing the pyramid at the base are the drummer and bassist, Ed Farnsworth and Clint Takeda respectively.
The other songs on the album follow the same formula of slow and driving noise that seems to say something without ever saying anything. There is a way this music is supposed to be performed and Bardo Pond doesn't deviate from the band's past work.
Known as the world's most essential psychedelic rock experience, Bardo Pond have started 2011 with a burnt-out bang. Their fans wouldn't have it any other way. This album may very well be the bone-chilling experience of the year.
---
Listen to the epic "Undone":
Toro Y Moi - Underneath the Pine
:: March 9, 2011
:: by Zack Witzel (Music Dept. Staff)
Chillwave as a genre and an ideal conjures up summertime imagery by its very nature. But something about Toro Y Moi, the project of South Carolina's Chazwick Bundick, feels otherworldly—transcendent. With Underneath The Pine, his sophomore venture, he doesn't just send listeners to the beach to watch the tides change; he puts them in a hot air balloon to cross international borders and just admire the landscapes.
The undeniable "Still Sound" combines the jive of funk basslines with elements of disco and the soft call of Bundick's vocals. "New Beat" gives a kick in the pants instantly and barely relents for the duration. Fittingly, "Got Blinded" works supremely well with eyelids shut, allowing the background echoes to envelop and flock until the melody has to cut through with vigor.
And that's the very thing about this album: the melody. Alone, the backbeats and harmonies would work well enough, but it's Bundick's sense of melody that separates Underneath The Pine—and Toro Y Moi in general—from the rest of chillwave.
---
Listen to "Still Sound":
1 | 2 | 3 | 4 | 5 | 6 | 7 | 8 | 9 | 10 | 11 | 12 | 13 | 14 | 15 | 16 | 17 | 18 | 19 | 20 | 21 | 22 | 23 | 24 | 25 | 26 | 27 | 28 | 29 | 30 | 31 | 32 | view all