Blog
subscribe to the RSS feed file
Tropical Punk - Sweetheart
:: March 29, 2011
:: by Anthony Gannon (Music Dept. Staff)
Tropical Punk sounds exactly like their name suggests. They are punk rock musicians that play with a tropical flavor. The effect works out well with Sweetheart, the Ithaca, N.Y. band's first release.
The music has an obvious island-like feel to it, and the music feels like it's coming from a hastily constructed bamboo stage at the edge of a surf competition. This isn't Beach Boys surf rock either; this is edgier and more aggressive.
The band shows off their sound on every song from Sweetheart, but the opener, "To Hearts," best shows off the unique blend that is Tropical Punk.
It opens sloppy and it's played hard. The songs all sing of the fun times in summer, and that's exactly what we need when snow is on the ground.
Tropical Punk has attained at least one fan in me and will win you over too. It's music worth listening to because you never know where it'll take you. Like the waves of Waikiki, this album puts you in dangerous territory, but the ride in is so memorable you'll take the risk every time.
---
Listen and download their EP here:
Memphis - Here Comes a City
:: March 28, 2011
:: by Paige Winston (Music Dept. Staff)
Memphis is melodic, vulnerable, and sassy. Memphis is also Torquil Campbell and Chris Dumont who put on quite an act as a dynamic duo. Their bright instrumentals almost shadow the hurt and fear in the lyrics sung by the muse-like Campbell, who also happens to have a role in the Canadian group Stars.
"What Is This Thing Called?" sounds like leftovers from The Smiths' classic The Queen Is Dead. The song plays out in a dream sequence electronic style. You become a key player in their songs as you drift into oblivion.
Romanticism takes song form in "Apocalypse Pop Song," where darkness ensues in a natural course. It is perhaps the highest point of the album. It hits you close to the beginning, but the rest of the album follows in a melodramatic spiral.
Memphis performs the norm in a very realistic and soothing way. You can simply listen for leisure, or dig into a more eclectic place. Either way there is something for everyone here.
---
Listen to "Apocalypse Pop Song":
The Head and the Heart - S/T
:: March 25, 2011
:: by Jess Rehac
Seattle-based band The Head and the Heart is just about as new to the music industry as it gets, getting its start just over a year and a half ago at an open mic night at a local bar. Though they haven't been performing long, they didn't waste time on the local bar scene for very long; shortly after the release of their debut album in July of 2010, The Head and the Heart found themselves sharing a stage with Vampire Weekend at Seattle's Paramount Theater.
The Head and the Heart is a band that is easy to fall in love with right from the start, and their new self-titled album is no different. The Head and the Heart is an album that needs to be listened to in its entirety; every song, while good on its own, really belongs together. Blending the easy-going sounds of classic folk-rock and the upbeat melodies of indie-pop, The Head and the Heart bring you back home and make you wonder why you ever left.
---
Check out the video for "Lost in My Mind":
John Vanderslice - White Wilderness
:: March 24, 2011
:: by Pat Hosken
Anyone can be a singer-songwriter. Take a dime-store guitar, some lyrics scribbled on a bar napkin, an affected whine, and presto!
John Vanderslice is a singer-songwriter, but he's certainly not that guy. Vanderslice was a founding member of MK Ultra during the mid-90s, and collaborated with The Mountain Goats, as well as releasing his own solo records throughout the last 11 years.
Vanderslice takes the Sufjan Stevens/Neil Young's Harvest approach to his music: full-bodied folk, backed up by immense instrumentation that gives each tune a unique feel.
For his latest venture, White Wilderness, Vanderslice teamed with Minna Choi and her Magick*Magick Orchestra to get that rich, almost cinematic sound.
Opener "Sea Salt" begins earnestly, with Vanderslice singing, "Sun shines on the Gaza Strip," over a few strums accompanied by a backbeat and a few piano tickles. After a few minutes, the song shakes off its blandness and jumps into a horn-and-string interlude, like children being let outside for recess. After that, it's back to the same old mid-tempo mumbles before another beautiful orchestral-crescendo.
"Convict Lake" follows "Sea Salt"; it's propelled by a frisky horn melody, plenty of cymbal taps, and a powerful strum. Vanderslice sounds more Stevens here than anywhere else, and the resemblance gives the atmosphere a pretty quality.
As the album progresses, Vanderslice shows his greatest skill: attention to detail. Tiny nuances like background howls, or a quick French horn cameo make the songs rich and layered; like a wonderful symphony. Now 43, Vanderslice reached middle age, but his talent and sound don't reflect that. White Wilderness is tinted by all the right colors—autumn grey, sky blue, forest green and a splash of ruby red.
---
Listen to "Convict Lake":
Rival Schools - Pedals
:: March 23, 2011
:: by Anthony Gannon (Music Dept. Staff)
Fans of Rival Schools have had to wait 10 years for the official follow-up to their debut album United by Fate. With their new release, Pedals, Rival Schools has ensured that they will bring back all of their old fans, as well as some new ones this time around.
Pedals is a smoother, softer album, driven by crunchy guitars and emotional singing. The creative forces behind Rival Schools is lead-singer/guitarist Walter Schreifels, guitarist Ian Love, bassist Cache Tolman and drummer Sam Siegler.
There are plenty of tunes on Pedals with the band's characteristic melodic indie-rock sound. The two that best show the band's work are "Wring it Out" and "Shot After Shot." "Wring it Out" is a solid lead-off track that gives the listener a taste of all the good things to come throughout the rest of the album without overfeeding them.
"Shot After Shot" can be found midway through the album and is an all-around great track. It stands out against the sound of the songs around it and is a solid, driving, pure rock song full of catchy hooks, and guitar riffs that sound as if they're singing along with Walter.
Ten years in the making, Pedals is another great addition to the indie rock lexicon.
---
Listen to "Shot After Shot":
Black Joe Lewis & the Honeybears - Scandalous
:: March 22, 2011
:: by Kyle Zappia
On their sophomore album, Black Joe Lewis takes The Honeybears on a wild ride.
The Texas natives still supply the retro, throwback blues music, but take a different route for the new album. The powerfully prevalent brass and woodwind instruments heard on their debut, Tell Em What Your Name Is!, take on a new role this time around. Showing off their versatile song writing, the band shares the stage by meshing their instruments instead of the stark horns standing out so much.
The band still showcases Lewis' deep, James Brown-like voice, and funky guitar and bass riffs, but now everything seems to jell better together.
Certainly, Scandalous is nothing but what you could hope for from the gang, a good mix of old with a good mix of new.
---
Listen to the album's first single, "Booty City":
The Mountain Goats - All Eternals Deck
:: March 21, 2011
:: by Jess Rehac
Hailing from the sunny state of California, The Mountain Goats have been producing indie-folk music for nearly two decades, accumulating a well-deserved and sometimes almost cult-like following. In the beginning The Mountain Goats' focus was to write and record music almost instantly; if a song wasn't written and recorded within the span of a few days, it was often set aside and left there for a new idea.
Over the past ten years, The Mountain Goats have been taking the time to produce records with a much more polished sound to them than what they were used to. Their newest album, All Eternals Deck is no exception. Setting witty lyrics to the classic sounds of American roots music, The Mountain Goats continue to put a smile on the faces of their fans. No song on the album stands out as an absolute single; this is an album that is meant to be listened to and shared as a whole, and I've yet to meet someone who could stop listening halfway through.
---
Listen to "Damn These Vampires":
Dum Dum Girls - He Gets Me High EP
:: March 18, 2011
:: by Pat Hosken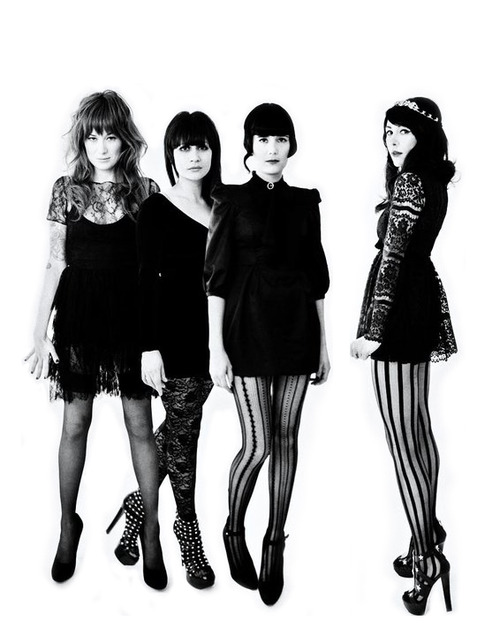 "Vintage" rock 'n roll is valued highly in today's music scene. In a realm where electronic beats, computer programming and even auto-tuned vocals are present in music still labeled as "rock," Dum Dum Girls slide in on a wave of refreshing nostalgia.
He Gets Me High is the third release from this fuzzy quartet after last year's debut-LP, I Will Be and an earlier EP in 2008. SPIN's Kenneth Partridge stated that Dum Dum Girls are the answer to the question: "What if the Bangles and the Cure had mated in 1982?" That's a boiled-down definition, but these sunny rockers also channel The Stones, The Smiths and a lot of peppy '50s surf rock into their infectious jams.
The title track is a tight tune in the vein of last year's single "Bhang Bhang I'm a Burnout." Crunchy bass leads the song into pounding drums and full-bodied major chords and, of course, leader Dee Dee's beautiful melodies that jump in the air like long, black hair bobbing down the stairs. If the melodies don't get you, the simultaneous bright-and-dark musicality will.
Rounding out the 14-minute EP is a roaring cover of The Smiths' "There Is a Light That Never Goes Out" that updates and Americanizes the morose and quaint original tune. It's the same song, only this time it sports black fishnets and bright ruby lipstick. Dee Dee keeps Smiths' singer Morrissey's cadence catchy and tight, never letting the song become anything but her own.
Dum Dum Girls are vintage indeed—a throwback to a time when music was made with guitars, drums and catchy melodies. The disc itself comes in its own Sub Pop sleeve, like a vinyl album would, that means even the CD casing is vinyl. Dee Dee and the gang keep it real, and keep it real-cool on an EP that shows a bright future for her girls.
---
Listen to their cover of the Smiths' "There Is a Light That Never Goes Out":
Does It Offend You, Yeah? - Don't Say We Didn't Warn You
:: March 17, 2011
:: by Paige Winston (Music Dept. Staff)
Does It Offend You, Yeah has made their fans wait three years for their follow up album to their last release, You Have No Idea What You're Getting Yourself Into. Don't Say We Didn't Warn You is the follow up to the former release and for fans of the band it's been worth the wait.
Don't Say We Didn't Warn You is full of electronic melody, punk attitude, and driving bass beats with just a touch of indie class.
"Pull Out My Insides" breaks from that normal sound of the album, and the band itself, by toning down the dance aspect. They instead focus more on the vocals of lead singer James Rushent. It still has the prominent bass, but lets you catch your breath after the two electro-heavy songs that lead the album.
Don't Say We Didn't Warn You has satisfied the hungers of Does It Offend You, Yeah's fans. It's enough to hold them over until their next release, even if it takes some time to get there.
---
Listen to "Pull Out My Insides":
Boat - Dress Like Your Idols
:: March 16, 2011
:: by Anthony Gannon (Music Dept. Staff)
Listen, coming out of your speakers, it's poppy, it's rocky. No it's both. All from Boat's fourth studio album Dress Like Your Idols. This thing is full of tongue in cheek lyrics, catchy pop choruses, soft, reverbing guitar, and harmonious singing.
Dress Like Your Idols can be listened to anytime, but no matter when you listen to it you'll end up in the same mood by the end of the title track. You will be relaxed, and forced to do nothing more, but start the whole thing over from the beginning.
David "D" Crane provides guitar and the storytelling vocals for the band. Jackson Long adds drums behind the kit, as well as producing and mixing for the band. Mark McKenzie takes time off from dancing jigs onstage by playing bass and guitar for the band. John Goodman rounds out the quartet, providing keyboards, guitars, tambourine, cowbell, and everything short of the moon for Boat.
One of the standout tracks is "King Kong." There's a sinister keyboard note being held against a nice back and forth guitar sound while Crane sings along to himself. This is just in the first 30 seconds. Once the chorus comes in with its driving guitar, bass, and drums, the singing has built to a crescendo of hooky substance before resolving into an intense minimalist guitar solo. It's a very well-done track that shows all the strengths of the band perfectly.
---
Listen to "King Kong":
BOAT "(I'll beat my chest like) King Kong" from Magic Marker on Vimeo.
1 | 2 | 3 | 4 | 5 | 6 | 7 | 8 | 9 | 10 | 11 | 12 | 13 | 14 | 15 | 16 | 17 | 18 | 19 | 20 | 21 | 22 | 23 | 24 | 25 | 26 | 27 | 28 | 29 | 30 | 31 | 32 | view all