Blog
subscribe to the RSS feed file
Bibio - Mind Bokeh
:: April 8, 2011
:: by Anthony Gannon (Music Dept. Staff)
Bibio is Stephen James Wilkinson: one man who performs as Bibio and creates all the sounds heard on Mind Bokeh. This album is hard to describe because it seems to change its own mood from one song to the next. The album itself is very polished. There are times where it appears chaotic, but Bibio always knows where he wants his song to go next and he knows how to get there.
There is a distinct chillness that comes from the sound of Mind Bokeh. Every song has a relaxing quality that shows through. It's also reassuring that every song appears to be well thought out.
"Light Seep" is one of those songs that stands out against the rest of the album because it sounds completely different from the rest of the stuff Wilkinson recorded. It's a funk influenced, electronic heavy, guitar driven number that just causes the listener to sit back and feel at peace with their world.
SJW accomplished his musical vision with Mind Bokeh. The beneficiary of Bibio's vision is our ears. This music is worth keeping on play all day.
---
Listen to "Light Seep":
Vivian Girls - Share the Joy
:: April 7, 2011
:: by Pat Hosken
Brooklyn's indie scene has all started to blend together—but that's not necessarily a bad thing. Lo-fi queens Vivian Girls carry their airy girl-pop with an air of confidence, despite its similarity to the Brooklyn norm.

The comparison to contemporaries Dum Dum Girls is easy but not quite truthful. Vivian Girls bring the vintage surf-pop of simpler times, while Dum Dum Girls pile on the distortion. Vivian Girls champion the beach like Best Coast, but with more guitar melodies.

"I Heard You Say" brings on the harmonies, making the chorus a sweet affair amidst verses of confusion. Opener "The Other Girls" is an epic 8-minute piece with much guitar exercise, but it's perhaps just a bit too long for its own good.

Vivian Girls might be the overlooked ones in the bunch, but that doesn't stop them from trying. Singer Cassie Ramone (also of The Babies) brings her best pipes to each tune, yelping out and even sing-telling heartbreak tales in "Take it As it Comes."

In an age where a tattooed lovelorn chick with a guitar is fashionable, Vivian Girls fit right in, and their charm might not be as striking as others, but it's still quite enjoyable.
---
Listen to "I Heard You Say":
Obits - Moody, Standard and Poor
:: April 6, 2011
:: by Levi Trimble
Imagine The Rolling Stones and The Ventures combined with over-powered effects. That combination turns out to be Obits. This Brooklyn-based band has been making music since 2006, after singer/guitarist Rich Froberg's band Hot Snakes broke up. Obits practiced for months but were not ready to play live for quite a while. Finally, Sub Pop Records invited them to join their ranks in 2008. Since then, it has been a perfect match.
Pumping guitars, heavy drum beats and pounding bass lines, combined with Froberg's vocals make strong notions of eventual stardom. Dark, fuzzy effects with staccato, sometimes even palm muted, guitars create a punk-like atmosphere, reminiscent of the members' post-hardcore past. Some describe the band like a Violent Femmes only with heavy electric guitars and even more exaggerated vocals.
Obits screams pure power. The newest single from their latest album, Moody, Standard and Poor, "You Gotta Lose" epitomizes good hard rock. The dual guitars make profound strides for the band and their talent level.
Head rocking, fist pumping and music loving come from listening to Obits. Give them a try. You will not be let down.
---
Listen to "You Gotta Lose":
The Kills - Blood Pressures
:: April 4, 2011
:: by Paige Winston (Music Dept. Staff)
James Hince and Kate Moss are together, great. The Dead Weather is on indefinite hiatus, leaving Allison Mosshart with only one focus, also great. Now that the tabloid view of The Kills is out of the way, we can get to the good stuff. The fourth album by the duo of Hince and Mosshart sets a different tone than the three preceding.
You can say that the three years parting their releases was some sort of time taken t create a new sound, but we should know better. A pre-menstrual moodiness flows through the 11-track album. Needless to say, the slow-burning passive-aggression kicks you down and mentally toys with you.
"Nail In My Coffin," is a menacing track, where Hince makes it a point to use the guitar to set the definite mood. Not that it is unfamiliar for Hince to manipulate each instrument to make each song powerful, or in this case, mildly painful.
Not to say that The Kills have completely gotten ridden of their once hook-heavy style, but they have surely hid them within stronger aspects. In "DNA," there is a distinct hook, but you lose it withing the steady clack clacking of the drumsticks. Mosshart seems to shine with her newfound prominence in the songs that are focused on her musical ability.
The Kills effortlessly rocked it again with their new borderline macabre sound.
---
Listen to "Satellite":
Parts & Labor - Constant Future
:: April 1, 2011
:: by Bill Mulilgan (Music Dept. Staff)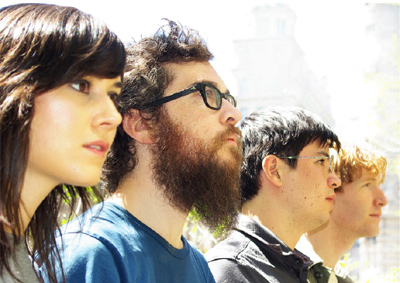 Ten years ago, Parts & Labor were a Brooklyn based bunch of art kids who blended noise with sparse and effective melody.
Today, they're still a bunch of art kids who have fully found their sound. While they're certainly not the first to combine sparse electronics, wiry guitars, anthemic choruses and pop hooks into uplifting experimental noise rock, they're really damn good at it.
Constant Future is Parts & Labor's fifth full-length effort of noisy, poppy, experimental rock with just a hint of pop-punk influence. Nearly every track on the album is a powerful electronic soundscape, blending buzzing instrumentals with melody, and it works every time.
---
Listen to "Rest":
Alexander - S/T
:: March 31, 2011
:: by Kyle Zappia
Alex Ebert has spent a lot of time alone. After leaving the party lifestyle of Los Angeles, breaking up with his girlfriend, and spending a year living in a small apartment, becoming disconnected from the world and trying to find himself, Alex started the band Edward Sharpe and the Magnetic Zeros. Now for the first time Ebert puts the band to side for the moment, releasing his first solo album Alexander.
However, it doesn't seem like Ebert has really left the band at all. Much of his album sounds very similar to songs released under ESATMZ, the one noticeable difference being the absence of female vocalist Jade Castrinos. Alexander still sounds like a hippy wandering the world looking for his place in life, but maybe that's because that's the way of living that he connects with the most. He fills up the album with a mix of upbeat tunes and somber songs. At times you'll want to dance, other times cry. It seems like Alex has finally found his identity and isn't straying from it.
---
Listen to Alexander's first single, "Truth":
The Joy Formidable - The Big Roar
:: March 30, 2011
:: by Pat Hosken
"The Big Roar"—has there ever been a more fitting title for a band's debut album? The Joy Formidable closely mirrors the furious grandiosity of contemporaries Silversun Pickups and the similarities are noticeably striking. But, the big-hearted wall-of-sound that The Joy Formidable churns out with much ease really is a big roar, and one that doesn't lose its luster on repeat listens.
Every song has single potential, so it's even harder to choose the few that really stand out. Yawping opener "The Everchanging Spectrum of a Lie" is an eight-minute epic that starts off small and only gets louder and bolder, eventually culminating in super-fast drum and guitar pounds that can easily raise the blood pressure.
"A Heavy Abacus" layers the distorted crunch on thick. The loud-quiet-loud dynamic, once a staple of alternative acts, is given a revival by The Joy Formidable on this mighty jam. With echoes of My Bloody Valentine's misty shoegaze and Smashing Pumpkins' sour-then-sweet dream pop, the middle of the album is the cream filling in a deliciously heavy Oreo.
The Big Roar is a romantic affair—an intrepid and loud one—but an experience that lives up to its name.
---
Watch the video for "Austere":
Tropical Punk - Sweetheart
:: March 29, 2011
:: by Anthony Gannon (Music Dept. Staff)
Tropical Punk sounds exactly like their name suggests. They are punk rock musicians that play with a tropical flavor. The effect works out well with Sweetheart, the Ithaca, N.Y. band's first release.
The music has an obvious island-like feel to it, and the music feels like it's coming from a hastily constructed bamboo stage at the edge of a surf competition. This isn't Beach Boys surf rock either; this is edgier and more aggressive.
The band shows off their sound on every song from Sweetheart, but the opener, "To Hearts," best shows off the unique blend that is Tropical Punk.
It opens sloppy and it's played hard. The songs all sing of the fun times in summer, and that's exactly what we need when snow is on the ground.
Tropical Punk has attained at least one fan in me and will win you over too. It's music worth listening to because you never know where it'll take you. Like the waves of Waikiki, this album puts you in dangerous territory, but the ride in is so memorable you'll take the risk every time.
---
Listen and download their EP here:
Memphis - Here Comes a City
:: March 28, 2011
:: by Paige Winston (Music Dept. Staff)
Memphis is melodic, vulnerable, and sassy. Memphis is also Torquil Campbell and Chris Dumont who put on quite an act as a dynamic duo. Their bright instrumentals almost shadow the hurt and fear in the lyrics sung by the muse-like Campbell, who also happens to have a role in the Canadian group Stars.
"What Is This Thing Called?" sounds like leftovers from The Smiths' classic The Queen Is Dead. The song plays out in a dream sequence electronic style. You become a key player in their songs as you drift into oblivion.
Romanticism takes song form in "Apocalypse Pop Song," where darkness ensues in a natural course. It is perhaps the highest point of the album. It hits you close to the beginning, but the rest of the album follows in a melodramatic spiral.
Memphis performs the norm in a very realistic and soothing way. You can simply listen for leisure, or dig into a more eclectic place. Either way there is something for everyone here.
---
Listen to "Apocalypse Pop Song":
The Head and the Heart - S/T
:: March 25, 2011
:: by Jess Rehac
Seattle-based band The Head and the Heart is just about as new to the music industry as it gets, getting its start just over a year and a half ago at an open mic night at a local bar. Though they haven't been performing long, they didn't waste time on the local bar scene for very long; shortly after the release of their debut album in July of 2010, The Head and the Heart found themselves sharing a stage with Vampire Weekend at Seattle's Paramount Theater.
The Head and the Heart is a band that is easy to fall in love with right from the start, and their new self-titled album is no different. The Head and the Heart is an album that needs to be listened to in its entirety; every song, while good on its own, really belongs together. Blending the easy-going sounds of classic folk-rock and the upbeat melodies of indie-pop, The Head and the Heart bring you back home and make you wonder why you ever left.
---
Check out the video for "Lost in My Mind":
1 | 2 | 3 | 4 | 5 | 6 | 7 | 8 | 9 | 10 | 11 | 12 | 13 | 14 | 15 | 16 | 17 | 18 | 19 | 20 | 21 | 22 | 23 | 24 | 25 | 26 | 27 | 28 | 29 | 30 | view all